Walmart, H&M, Dragonfly Kitchen "race with the machines"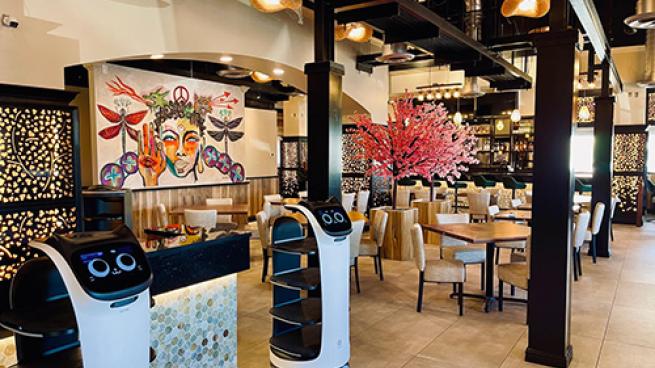 Retailers are discovering that technology and humans work best when they work together.
A growing number of retailers are using technology to complement, rather than replace, human employees. This strategy, which allowed teams of human chess players working with computers to beat human and computer opponents working alone, has been dubbed "race with the machineby MIT professor Erik Brynjolfsson.
Here are three examples of retailers racing with machines to maximize investments in employees and technology solutions.
Walmart offers an interactive driver app
Oalmart is tackling an industry-wide trucking shortage with innovative technology.The discount giant is implementing two technological tools that work together to improve the driving experience.
Working with Platform Science, every cabin in the Walmart private fleet now comes equipped with an intuitive and interactive tablet that fully integrates with NTransit, a proprietary driver workflow application.
By using the Platform Science telematics infrastructure solution to deploy the NTransit application, Walmart provides near real-time visibility of assets within the fleet to ensure freight arrives on time and in the right place. As a result, stores can better anticipate load arrival times and plan and schedule labor around deliveries more efficiently.
As a result, Walmart intends to improve shelf stocking levels and provide customers with more accurate inventory of products available for purchase online.
Additionally, Walmart will leverage new in-vehicle technology to help drivers communicate more closely with stores. When the driver approaches a store, geolocation technology detects the driver's location, sending push notifications to associated wearable devices in the store, allowing them to schedule faster unloading and turnaround. The retailer can also deploy secure audio messages directly with drivers to ensure they receive important information while in the field.
H&M streamlines order processing with robotics
Global fashion giant H&M is increasing the efficiency of online order fulfillment by leveraging warehouse automation provider GreyOrange's robotic fulfillment systems alongside warehouse workers. In a recent exclusive interview with chain store agePascal Faessler, head of Logistics Americas at H&M, explained the retailer's decision to deploy the technology.
"Using robotics in our warehouses to complement our many talented employees is a way to create a more streamlined service and increase our performance," Faessler said.
In its warehouses, H&M uses GreyOrange robots to perform a wide variety of tasks. These include the management of folded stock and goods on the shed, as well as the conversion of stock between channels with intelligent recall and repositioning functions. The robots also perform parallel batch picking, allowing multiple orders to be picked simultaneously.
"Combined with the skilled employees of our distribution center, our partnership enables us to continually exceed our customers' expectations," said Faessler.
Dragonfly Kitchen rolls out "cat robots"
Robotic cats that help serve food are one aspect of a New Jersey-based casual dining chain's strategy to deal with rising operating costs. In an exclusive interview with chain store ageChing Ho, CEO of Dragonfly Brands, explained how the operator of two restaurants Dragonfly Kitchen in New Jersey is partially automating its store environment to enable profitability.
Dragonfly Kitchen decided to control expenses by using innovative automation technology in key areas of the business. Most notably, the company deployed interactive service bots with animated cat faces from Pudutech. The robots dispense appetizers and drinks to tables, guided by lasers and lights with object avoidance programming.
"Chatbots don't replace staff," Ho said. "They reduce the number of trips a waiter has to make to the table by taking over household chores. We now only have to dedicate two employees to the management of aperitifs and drinks instead of three. For main courses we always use a human runner.
Cat robots offer other benefits, according to Ho. "Robots make sounds and faces like a cat," he said. "They are tactile. If you rub his ears, he purrs like a cat. Kids love them.